Professional Condominium Renovation / Remodeling in Vero Beach and the Treasure Coast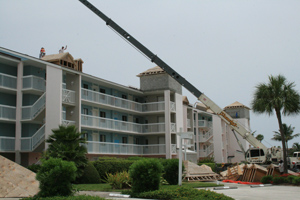 Whether you have a large condominium space or a small one, a Vero Beach condo renovation can make your property feel like new again. Whenever you have building or condominium remodeled, make sure that you find a quality contractor that has the years of local experience and the training needed so that you will receive the best possible service.
Whether you are looking to have something simple like a kitchen remodeled or the entire exterior renovated, you can rest easy by having the project completed by our trained remodeling experts. Our company specializes in exterior condominium restoration as well as condominium balcony repair. When you are in need of services for your condominium, you can be confident that Contract Service Enterprises has all the necessary equipment to handle any size project, no matter the size or scope.
Our Condominium Renovation / Remodeling Services in Vero Beach and the entire Treasure Coast
Commercial Remodeling
Exterior Condominium Renovations
Wood Removal
Stucco Replacement
Siding
Fascia
Roofing
Drywall
Electrical Repairs
Elevator Car Remodeling

Balcony Repair
Concrete Restoration
Railings & Aluminum Fabrication
Painting
Soffits
Doors
Windows
Metal and Wood Framing
Pool Pumps
Irrigation Systems
We Provide Condominium Renovation / Remodeling Services to the Following Areas
Vero Beach, FL | Melbourne, FL | Sebastian, FL | Fort Pierce, FL | Stuart, FL | Jupiter, FL | Palm Beach, FL | Boca Raton, FL
Why Vero Beach Should Hire Us for Condominium Renovation / Remodeling
We offer the best Vero Beach construction standards and warranties there are in the market today, which in turns gives you the most value for your hard-earned money.
Contract Service Enterprises only supplies quality materials and guaranteed workmanship when you call us for your condo remodeling project. Our clients put their faith and trust in our professional contracting company every day with one of their largest and most important assets.
Recent Articles About Condominium Renovation / Remodeling
If you are looking for Vero Beach Condominium Renovation / Remodeling then please call 772-770-9131 or complete our online request form.